Ford Amphitheater at Coney Island Boardwalk Tickets and Seating Charts - Brooklyn, NY
Ford Amphitheater at Coney Island Boardwalk Seating Charts
Ford Amphitheater at Coney Island Boardwalk - Pit/GA/Boxes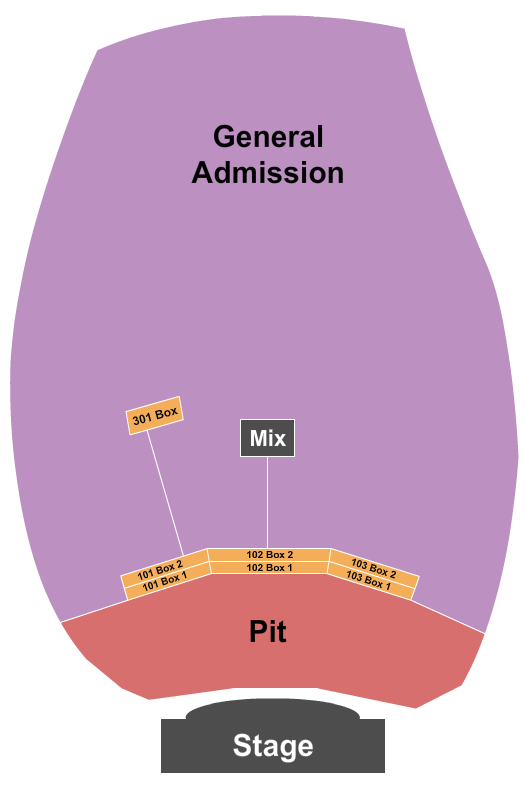 See Ford Amphitheater at Coney Island Boardwalk - Pit/GA/Boxes events that use this seating chart configuration
Learn more about Ford Amphitheater at Coney Island Boardwalk
Visitors have been trekking to the historic Coney Island Boardwalk for nearly a century in search of "fun." With the opening of the Ford Amphitheater, the shoreline destination's fun factor has been amplified for both concertgoers and performers alike. Opened in July 2016, the fully covered 5,000-seat outdoor venue is the first of its kind in the tristate area. Despite its brief tenure on the legendary boardwalk, the state-of-the-art facility captures the vibe of Coney Island's past with its integration into the Childs Restaurant building, one of the first large-format restaurants in the United States.

The Ford Amphitheater focuses on music, but its warm-weather roster also includes comedy acts, multicultural events and more. Hometown favorites the Impractical Jokers inaugurated the venue, and Sting, Willie Nelson and Widespread Panic have added to a growing roster of legendary performers who have graced its stage.

Located in Brooklyn on West 21st Street, the venue is easily accessible via car, bus or subway. Finding the perfect restaurant, hotel or family activity near the Ford Amphitheater is simple. It is, after all, located right on the Coney Island Boardwalk with its three miles of breathtaking amusement rides, classic games, trademark eats and majestic views of the Atlantic Ocean. Visitors looking for a more educational experience are in for a treat at the New York Aquarium, located only a short walk away.

Once inside the venue, beer, wine and food—including some of Brooklyn's iconic eats—are available for purchase from both concession areas and an on-site restaurant that boasts five unique dining experiences. For visitors looking for a nightcap following the show, there's no better place for a cocktail than Coney Island.
Ford Amphitheater at Coney Island Boardwalk Concert Ticket and Venue Information:
What is the capacity of Ford Amphitheater at Coney Island Boardwalk?
5,000
When did Ford Amphitheater at Coney Island Boardwalk open?
2016
FAQs about Ford Amphitheater at Coney Island Boardwalk
Q: What time do gates open at Ford Amphitheater at Coney Island Boardwalk?
A: Gates typically open anywhere between 90 minutes to 2 hours prior to showtime at Ford Amphitheater at Coney Island Boardwalk. Be sure to check the listing on your ticket as showtimes will vary.
Q: Looking for local Brooklyn Amphitheater concerts?
A: Our event listing has a list of all Brooklyn amphitheater concerts happening at Ford Amphitheater at Coney Island Boardwalk. You can also check out events in neighboring cities by checking out our list of venues by state.
Facts about Ford Amphitheater at Coney Island Boardwalk
Capacity:
5,000
Date/Year Built/Opened:
2016